Banned From Utopia Review Page 1 2 3 4
Jacobshof, Aachen, Germany, November 13, 2013.
Translated from a blog post on November 15, 2013 by Marco Smeets
Just another Wednesday in Aachen. Barely 20 minutes from my front door, I stand listening to a group of musicians who perform "The Black Page" with ease, as if shaking it off their sleeve. Almost innocently, among a number of popular and less complex audience favorites, with perfect execution. The atmosphere in the room, jammed with people from wall to wall, hovers somewhere between disbelief, surprise and euphoria.
Banned From Utopia is one of the many Frank Zappa tribute acts who travel the world to keep Zappa's music alive, but these musicians were chosen by Frank himself to play in his band, and they perform as if they are guided by the baton of Zappa's ghost. I have recently enjoyed hearing The Grandmothers Of Invention, Project Object and Frank's son Dweezil with Zappa Plays Zappa. Each performed with great intentions and high quality, but Banned From Utopia beats them all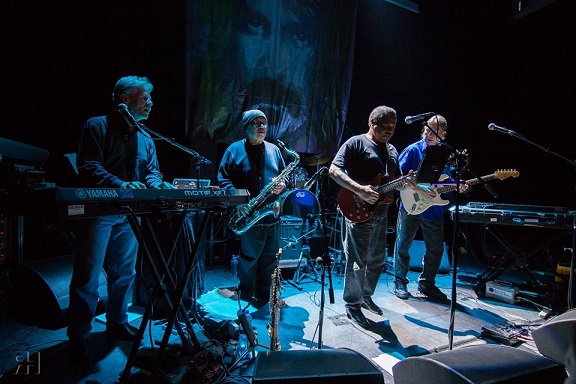 Photo Credit Ronald Van Den Hoven
The composition of the present Banned From Utopia covers the period 1973 to 1988 and consists of Robert "Bobby" Martin (vocals, keyboards, sax, horn), Ray White (vocals, guitar), Tom Fowler (bass), Albert Wing (saxophone), Ed Mann (mallets, percussion), Morgan Agren (drums) and Mike Miller (guitar, vocals). The latter is the only one who has never worked personally with Zappa, but his resume, with names like Chick Corea, Brand X, Natalie Cole, Queen Latifah, Bette Midler, Quincy Jones and Brian Wilson is no less impressive. Moreover, he played in various incarnations of The Grandmothers, so he knows the ropes.
The set list maintained a strong balance between jazz, rock and Zappa style spontaneous group improvisation, with enough soul to keep swinging. So the seemingly simple rock song "Doreen" follows comfortably after the 60's avant-garde jazz of "Eric Dolphy Memorial Barbeque." Despite the complexity of many songs, the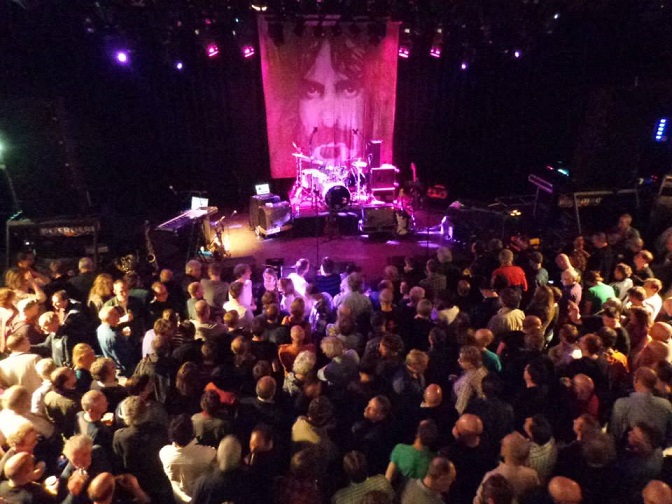 Photo Credit WIllem Minderhout
performance flows and is never heavy-handed. The music radiates non-stop heat, and there is always room for humor, as in the hilarious story about Sting, whose superstar attitude was rather unlovable when he sat in to sing a number with Zappa in Chicago on the '88 tour. Nevertheless, his "Murder By Numbers" just like in 1988, was draped masterfully by Ray White over Oliver Nelson's "Stolen Moments."
In the middle of a sublime performance of the jazz-fusion giant 'Big Swifty," the fan standing next to me remarked that in twenty years, this is the first time that the great master was barely missed. Sure, his appearance and witty remarks would be of value, but Bobby Martin leads with tight control, and Mike Miller knows how to interpret Zappa perfectly on guitar, so musically there is therefore nothing to complain about.
On December 4, 2013, it is exactly twenty years since Frank Zappa died. Yet, thanks to groups like Banned From Utopia, it is still possible to get close to him and almost feel his presence. Much gratitude for the music, anecdotes and passion he handed over to his former band mates.
When the show in Aachen was inte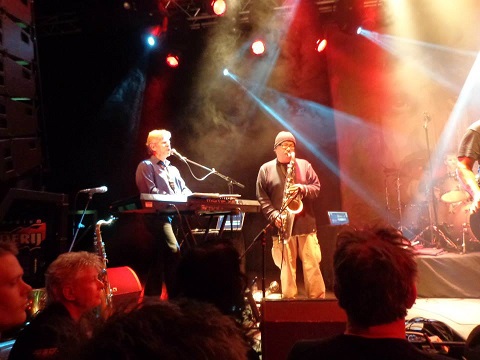 rrupted by a low pitched feedback that the house sound mixer had difficulty controlling, Tom Fowler simply picked up the resulting droning tone and built a bass line around it. Reflexively, as if someone upstairs snapped his fingers, I think of The Big Note.
Phenomenal, impressive, memorable.
Photo Credit WIllem Minderhout
Banned From Utopia don't just re-play the maestro's pieces, they really liven them up again! Robert Martin shows power of voice, the guitars of Ray + Arthur come mighty strong and contribute to FZ's fascinating multitude in music genres. This colorful style + rhythm is beautifully demonstrated in "City of Tiny Lights" - a mad journey through the world created of FZ's magic hand, thoroughly coming back straight to the point. Impressive: Chad's drumfire, just like Tom Fowler on bass, like a "flicking, throbbing animal on bass"! (I'm just visualizing Tom's grin about that! ) Resumé: an exquisite body of sound - followed by an overwhelmed audience reaction claiming 2 encores." Urs Wolf
For upcoming tour dates and for ticket and event info click here: